M.Sc Environment and Climate Change
The Department of Environment and Climate Change at Central College Campus was established in 2021. The PG Program in Environmental Science is designed to provide a comprehensive understanding of varied environmental issues using an interdisciplinary approach that synthesises an understanding of the science as well as the socio-economic implications of these issues.
The curriculum include laboratory experience, fieldwork experience; social science based project experience as well as sensitisation of students/citizens about environmental dynamics. The mission is to equip students with skills in research methods, inculcate in them a contextual understanding of significant global and regional/urban/Bengaluru environmental issues, and enable students to integrate the academics and techniques for reconstructing recent environmental changes.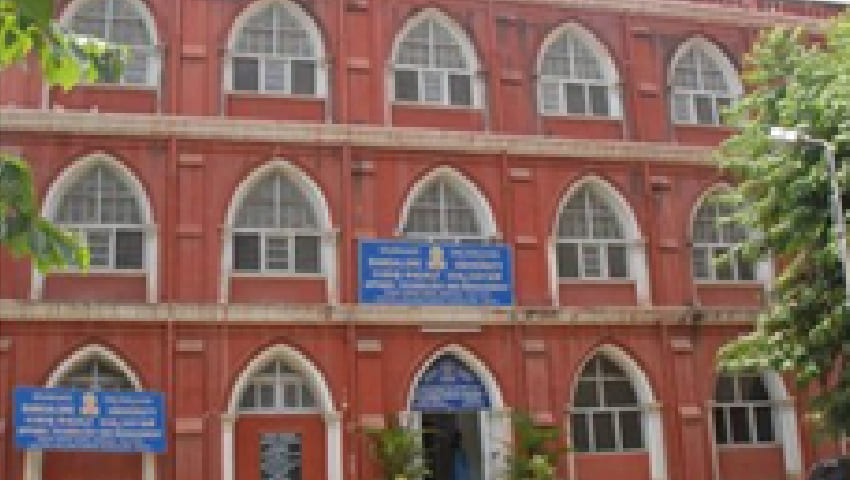 | Course Offered | Nature of Course | Duration | Intake | Eligibility |
| --- | --- | --- | --- | --- |
| M.Sc. in Environmental Science | Semester Scheme | 2 years (4 semesters) | 30 regular seats + 03 payment seats (excluding supernumerary) | A graduate in Science / Agriculture / Horticulture with a minimum of 50% marks in aggregate of all the optional subjects with Chemistry / Biochemistry as one of the three optionals and any one of the following subjects: Biotechnology, Botany, Computer Science, Electronics, Environmental Science, Geology, Genetics, Life Science, Microbiology, Physics and Zoology. 50% of the seats are reserved for students with Environmental Science as cognate subject at degree level. |
Student/Admission/Performance
As Department of Environment and Climate Change is the new department. Ist batch students For M.Sc (Environmental Science) admissions were done during in the academic year 2021- 22.
| Sl.No | Year | Student Intake M.Sc (FAD) | Students Admitted | Results | Rank Details |
| --- | --- | --- | --- | --- | --- |
| 1 | 2021 | 30 | 16 | 100% | |
Chair Person (I/c):  Prof. Dr. P. R. Chetana M.Sc., Ph.D
| Name | Designation | Qualification (FAD) |
| --- | --- | --- |
| Dr Shilpashree Mayachar K | Full Time Guest Faculty | M.Sc, Ph.D |
| Dr T R Kumaraswamy | Full Time Guest Faculty | M.Sc, Ph.D |
| Dr. Pavithra S Reddy | Full Time Guest Faculty | M.Sc, Ph.D |
| Dr. Veenashree | Part Time Guest Faculty | M.Sc, Ph.D |
| Greeshma P | Part Time Guest Faculty | BE, M.Tech |
| Gagana P | Part Time Guest Faculty | M.Sc |
Major instruments available in the Department: Spectrophotometer, Centrifuge, Respirable Dust Sampler (RDS), Digital Weighing machine, Rain Gauge, Anemometer, Microscope, Lux meter, Colorimeter.
Library
There are more than 100 books in the department where students can access, which provides an enormous range of books in Environmental Biology, Environmental Chemistry, Environmental Geology, Metrological Sciences and climate change. Statistics, Environmental toxicology, Environmental Engineering, Environmental microbiology, Environmental pollution and control, occupational health hazards, waste management techniques, natural resource management, remote sensing and GIS applications, Green technologies and Environmental law.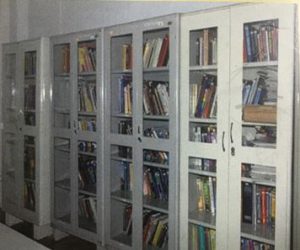 The course provides ample practical exposure to the students through frequent visits to Department of Environmental Science and department of Geology, Bangalore University and Sewage treatment plant.
Field Visit To Bio Park in Bengaluru University
On 19th March 2022 ,16 students with two lecturers went for a field visit to the bio-park of BU campus in Jnana Bharathi, Mysore Road with an aim to observe and understand the biodiversity of the forest area as a part of the practical session of 1st semester, MSc Environmental Science, Department of Environmental science and Climate Change Bengaluru City University Bengaluru Karnataka. We arrived there at 10 am and visited the Geology department laboratory. Later as planned we waled through the forest to visit the bio-park, first we conducted the BIOMASS experiment in the bio-park which was beside the Environmental Science Department.
Bangalore university is a public state university located in Bangalore, Karnataka, India. The university is a part of the Association of Indian Universities, Association of Commonwealth Universities and affiliated by University Grants Commission.
Trip Objective
The objective was to get to know the university's forest covered area and biomass. To learn about the native species, some of the preserved Western Ghats plant species. And to learn about the methods to collect the wate sample (grab sample method) and to preserve it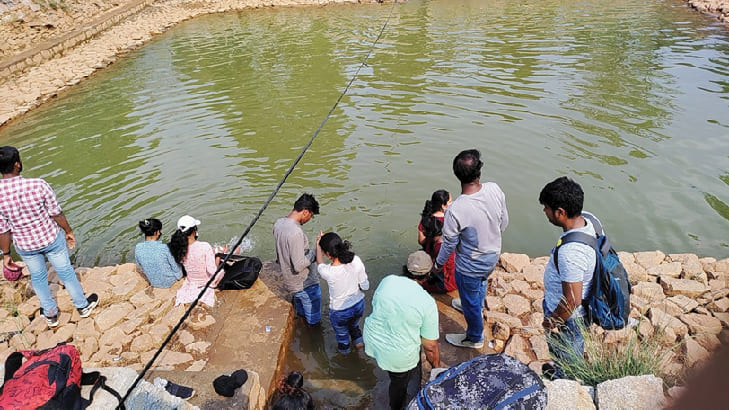 Field Observation
We were guided by the scholars and some teachers of Environmental Science Department of Bengaluru university. During the visit we jotted down some notes on the plant species like Sandel wood tree, species of occidentale, amara, marmelos etc. the natural forests of Jnana Bharathi Forest of Bengaluru (Urban) harbor a rich biodiversity. This also gives a valuable ecological service to numerous animals including birds and humans. There are 3 Endangered and 7 Vulnerable tree species (IUCN/FRLHT) were also identified. The artificial lake which was created by the university has been used by the students for swimming and bathing.
An artificial recharge to ground water is present in Jnana Bharathi Campus, in a structure of CHECK DAMS. Built in the year of 2000-2001.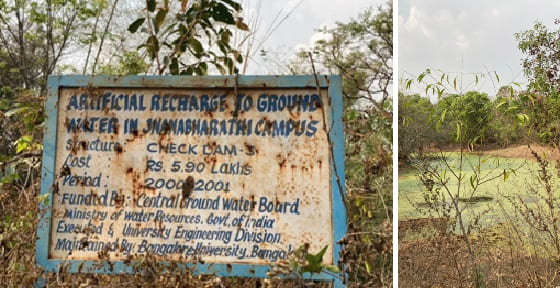 Conclusion
Our field visit ended about 4:00 pm in the evening. It can be concluded that the visit was successful and we believed that our objective was achieved. We learned something new and beneficial for us. It was a well recommended visit.
Field Visit To Geology Department
Introduction
The visit to GEOLOGY  DEPARTMENT , Bangalore University  was done as a part of the practical session of  first semester, MSc  Environmental Science , Department of Environmental Science and Climate Change, Bengaluru City University, Karnataka.
Bangalore University (BU) is a public state university located in Bangalore, Karnataka, India. The university is a part of the Association of Indian Universities, Association of commonwealth universities and affiliated by University Grants Commission.
Site Visit Outline
16 students from Bengaluru City University along with three professors visited the campus of Bangalore University, Geology Department from 10 am on 19th of March 2022. We observed and studied the mineral and rock specimens in the geological museum which is said to be the second largest geological museum with variety of specimens.
Once in the museum,  16 of us were divided into three different groups under the expert guidance of the professors from the geology department who kindly took out their precious time to explain and encourage us to ask doubts and enquire about the rocks and minerals present there.
The rocks were mainly of three types consisting Igneous rocks, Metamorphic rocks and Sedimentary rocks. All the rocks and minerals specimens were stored in glass closed cabins with well labeled manner. Fossils were also displayed in one corner. Fossils such as glossopteris etc were there.
Each type of rocks and minerals were explained for 20-25 minutes by the professors in a very understandable way. The formation of rocks, where it is present, in what form etc…. which gave us a much clearer idea about the petrology.
We finished our observations and doubts by 3pm and spoke with the teachers for some time. We winded up the session by thanking the respected teachers and other members who helped us to have such an informational and knowledgeable opportunity. It truly was an incredible experience.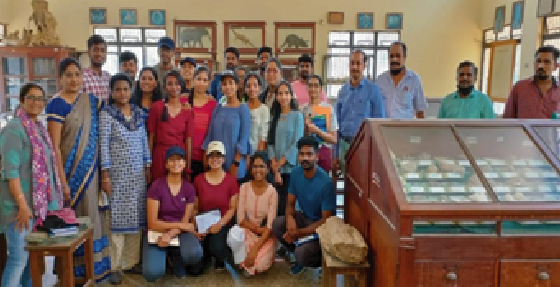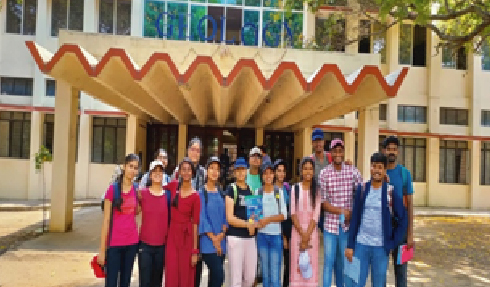 The course have been started from the academic year 2021-2022