"Instilling a passion of ethical sportsman spirit."
We at Bengaluru City University envision sustaining inventive savants and agile doers who possess the potential to stimulate substantial global change. Our Physical Education Department promotes this vision by encouraging the students in various sports activities. To build a sportsman spirit necessary on and off the field to combat the hassles of life, mind, and body, developing an optimistic approach to situations in any condition.  
We not only encourage sports but also render the essential compensations of our sports people. 
Hostel Accommodation.
Travel allowance, reimbursement, and other support.
 Financial and academic support.
Students attending sports activities will be granted internal assessments, and the concerned faculty shall arrange separate tests/assessments incorporating the same syllabus. This is for students who have legitimate certificates and letters signed by the heads of the physical education department.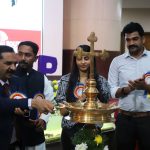 AIU South Zone Kabaddi Championship – 2022 in...